SAFE AND SANITARY AND READY TO GRILL!
HOW IT WORKS
I do not like to use harsh chemicals where I cook and eat, so we won't use them where you do. The few chemicals we do use are water based and 100% harmless to you, your family (including the pets) and your grill.
To clean the body of your grill, our go-to chemical is water, albeit in the form of pressurized vapor steam. This method Really Works! Our equipment is the same as what is used in restaurants, medical facilities and large food production plants to clean and sanitize their equipment. It provides for the CLEANEST of CLEAN without the use of harsh "hang-around" chemicals.
This method doesn't just cut through grease and grime, the vapor also sanitizes by killing just about every bacterium, virus and fungi that it comes in contact with. And All it is….. just steam vaporized water. How cool is that!?
The removable internal parts of the grill are taken out and cleaned via steam, scrubbing, brushing and finished off with a mild dish soap bath. This process and a little elbow grease get the internal parts of your grill looking great.
When we've got everything cleaned up to standard, we will finish up by polishing your grill's body to make it shine as well as protect. Then we clean everything up so no one can tell we were there, and we are done!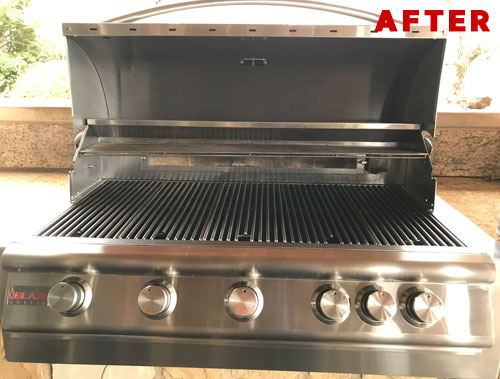 WHY BBQ GRILL CLEANING?
There are a lot of reasons to clean your grill but safety and longevity have to be the biggest.
SAFETY
1. Grill Safety should be a concern for anyone that owns a gas grill. Gas leaks and heavy fuel build up in the form of fat drippings can cause a serious fire hazard, which can lead to the substantial damage to property and yourself.
(Heavy fuel, in the form of fat drippings build up in the drip pan and can go up without notice)
2. Proper cleaning also removes carcinogens and rancid grease that build up on your grill. I'm from Texas. I was always taught that a dirty grill was a "seasoned" grill, it provides flavor they said. Well I have been brought into the light. The flavor they are referring to means cooking on and over rancid grease that is being devoured by all sorts of bacteria and fungi. YUK!
The true flavor of the meat cooked on a gas grill comes from the meat juices dripping onto the flavorizers, causing flavored smoke to rise and permeate the meat.
YUM!
3. Cleaning also removes the POO. Yes, I said POO – it's in there. Whether it's rodents or insects, you've got the POO in there.
I'm not sure if this is a safety concern, but I don't want to eat POO whether it's cooked or not.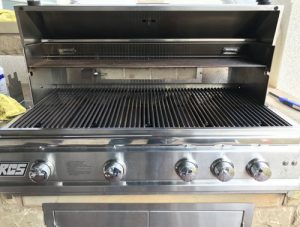 LONGEVITY
This is a clean grill, it's going to last a long time with proper cleaning and maintenance.
Gas grills are the most abused appliance in your house, they live outside, they undergo extreme heat, get coated in grease, exposed to the elements, it's a wonder they last as long as they do.The single biggest enemy to a gas grill is heat. High heat breaks down the steel, when that gets coated in fat and exposed to moisture you start to get corrosion. Routine cleaning will slow this process down immensely. It
will also alert you to any parts that need to be repaired before they malfunction.
.
Our customers love our service and attention to safety and detail.
Why not request a quote now and let us get your grill sparkling?
Grill Body Cleaning Includes:
Interior & Exterior Fire Box
Parts Cleaned in the Dip Tank: